San Josef Bay
Vancouver Island, Canada
WHY WE LOVE SAN JOSEF BAY
Put on your favorite pair of shoes because you won't want to miss this breathtaking beach in Cape Scott Provincial Park on Vancouver Island. After a good 45-minute hike, you will reach this amazing coastal wilderness and one of the most incredible unspoiled beaches you will ever see. Spend hours here exploring sea tracks and caves, take a refreshing swim, and feel the soft white sand under your feet. This beach is surrounded by calmness and rugged wilderness, making it a true unspoiled natural paradise. We highly recommend adding this beach to your "must-visit" list of beaches around the world.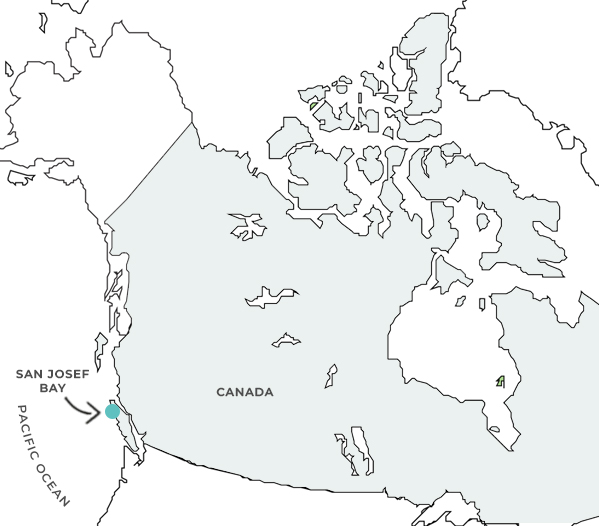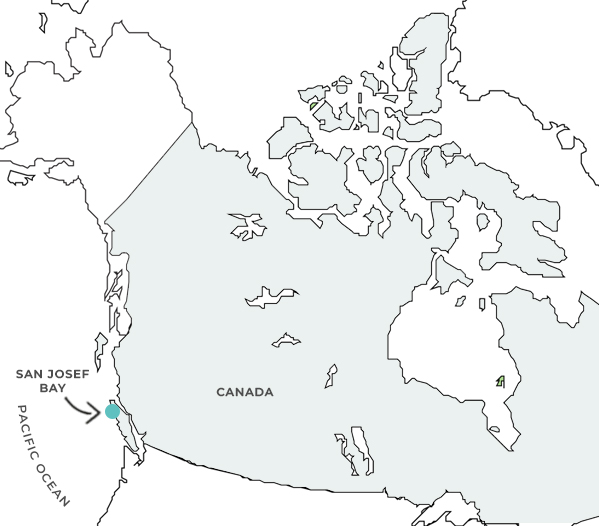 WHEN TO SEE IT AT ITS BEST
When visiting Vancouver Island, there is always a risk of rain, but the best time to go is from mid-May to early October. The wettest months are November and December. The East Coast of Vancouver Island has the best weather year-round, considering wind, rain, and temperature. The best month to visit San Josef Bay is August, with the warmest temperatures and more sun. The hike to San Josef Bay is 2.5 km and is considered a family-friendly hike in Cape Scott Provincial Park. Getting to the parking lot in Cape Scott Provincial Park can be a bit rough and may take about 2 hours from Port Hardy, but exploring this pristine, unspoiled wilderness is worth it! Remember to pack appropriately for the wilderness and respect the area's nature and wildlife.

"A gorgeous wilderness beach in a protected bay, dotted with rugged boulders and bordered on all sides by towering pines."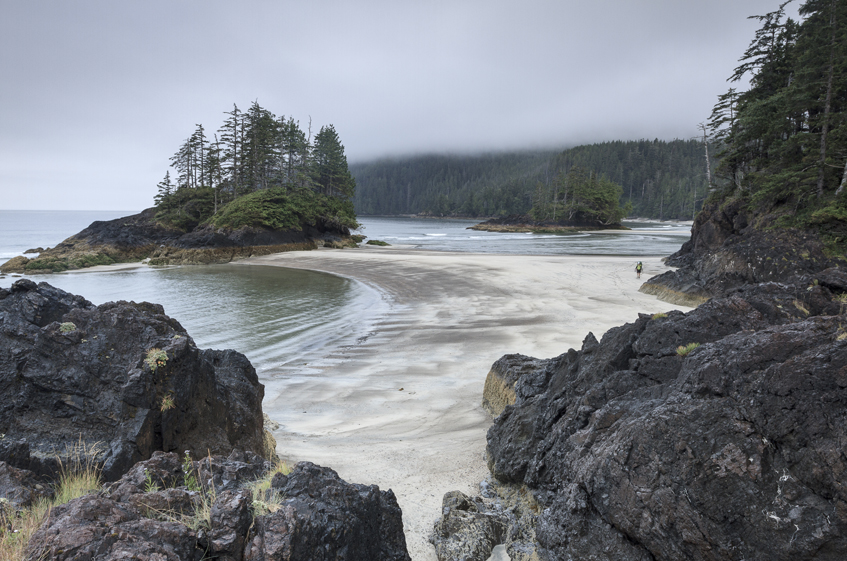 SAN JOSEF BAY YEARLY CLIMATE
| MONTH | AVG. HIGH | AVG. LOW | RAINY DAYS | AVERAGE WIND |
| --- | --- | --- | --- | --- |
| JANUARY | 8° C | 4° C | 19.7 | 24.4 km/h |
| FEBRUARY | 8° C | 5° C | 16.3 | 22.9 km/h |
| MARCH | 9° C | 5° C | 18.1 | 21.6 km/h |
| APRIL | 10° C | 7° C | 14.7 | 19.5 km/h |
| MAY | 12° C | 9° C | 11.3 | 17.3 km/h |
| JUNE | 14° C | 11° C | 10.5 | 15.8 km/h |
| JULY | 16° C | 12° C | 7.4 | 14.9 km/h |
| AUGUST | 16° C | 13° C | 8.7 | 14.8 km/h |
| SEPTEMBER | 15° C | 12° C | 11.9 | 16.1 km/h |
| OCTOBER | 13° C | 10° C | 18.9 | 20.5 km/h |
| NOVEMBER | 9° C | 7° C | 20.7 | 24.1 km/h |
| DECEMBER | 8° C | 5° C | 19.9 | 25 km/h |