Reynisfjara Beach
South Coast, Iceland
WHY WE LOVE REYNISFJARA
Reynisfjara Beach is unlike any other beach you've seen. Its rugged and dramatic allure, along with its sheer power, will leave you awe-struck. Unlike traditional beaches with their bright colors, Reynisfjara Beach showcases a different kind of beauty that you cannot afford to miss experiencing at least once in your lifetime. The black sand, sea stacks, glaciers, and columnar basalts are just a few components that make this place seem like another world altogether. You can spend hours exploring every nook and cranny, capturing different angles with your camera until your memory card is full. Simply put, if you want to feel nature at its core, this is the place!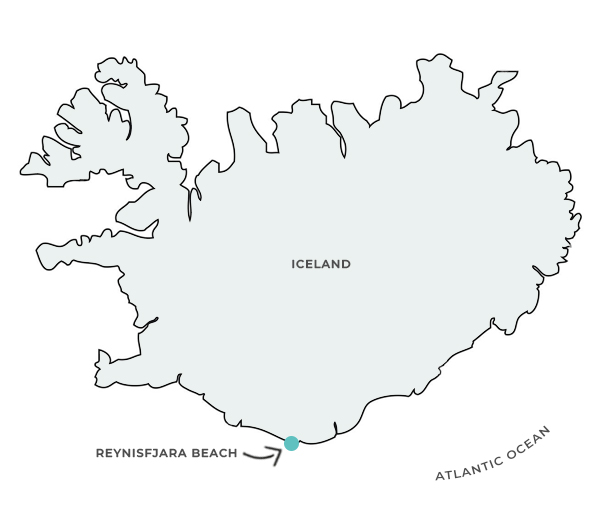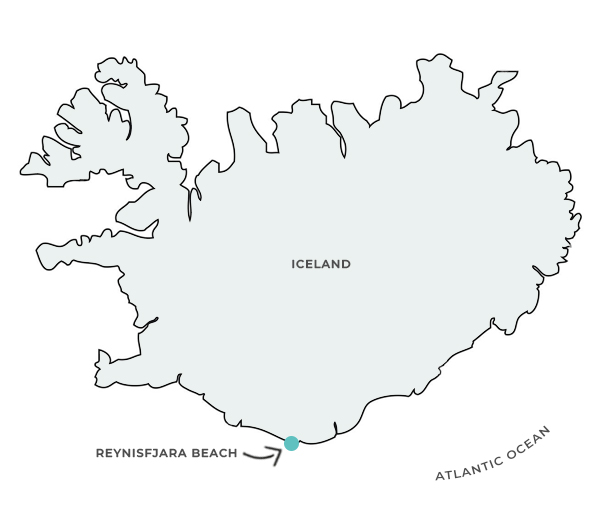 WHEN TO SEE IT AT ITS BEST
Iceland's temperature rarely exceeds 15 degrees Celsius, so don't expect a full beach day here. However, Iceland is still an amazing place to visit, particularly in the summer months from mid-July to August, when the climate is mild and there is less rain and cloud cover. June is also a unique experience with its 24-hour daylight. To explore Reynisfjara beach with fewer people around, we recommend arriving early in the morning before 10am. Due to the dramatic and natural surroundings, it's important to read safety signs about waves and tides.

"...it is one of the most beautiful beaches we have ever seen with its basalt rocks, cliffs and huge rocks out in the sea."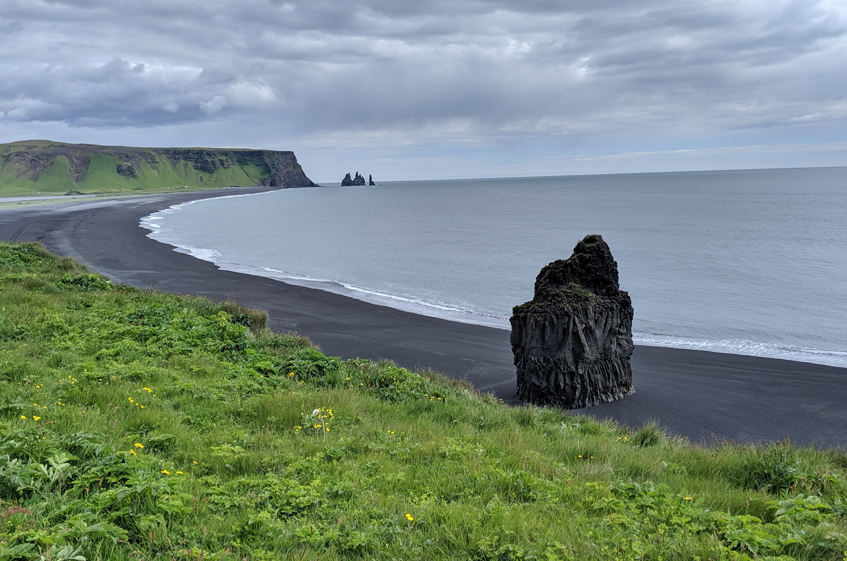 REYNISFJARA YEARLY CLIMATE
| MONTH | AVG. HIGH | AVG. LOW | RAINY DAYS | AVERAGE WIND |
| --- | --- | --- | --- | --- |
| JANUARY | 4° C | 1° C | 17.4 | 32.7 km/h |
| FEBRUARY | 4° C | 1° C | 16.3 | 32.6 km/h |
| MARCH | 4° C | 1° C | 16.4 | 30.6 km/h |
| APRIL | 6° C | 2° C | 12.6 | 27 km/h |
| MAY | 8° C | 5° C | 10 | 22.2 km/h |
| JUNE | 11° C | 8° C | 9 | 19.7 km/h |
| JULY | 12° C | 9° C | 10.2 | 18.8 km/h |
| AUGUST | 12° C | 9° C | 12.5 | 20.7 km/h |
| SEPTEMBER | 10° C | 7° C | 14.5 | 25.2 km/h |
| OCTOBER | 7° C | 4° C | 14.9 | 27.2 km/h |
| NOVEMBER | 5° C | 2° C | 15 | 29.3 km/h |
| DECEMBER | 4° C | 1° C | 16.9 | 31.9 km/h |