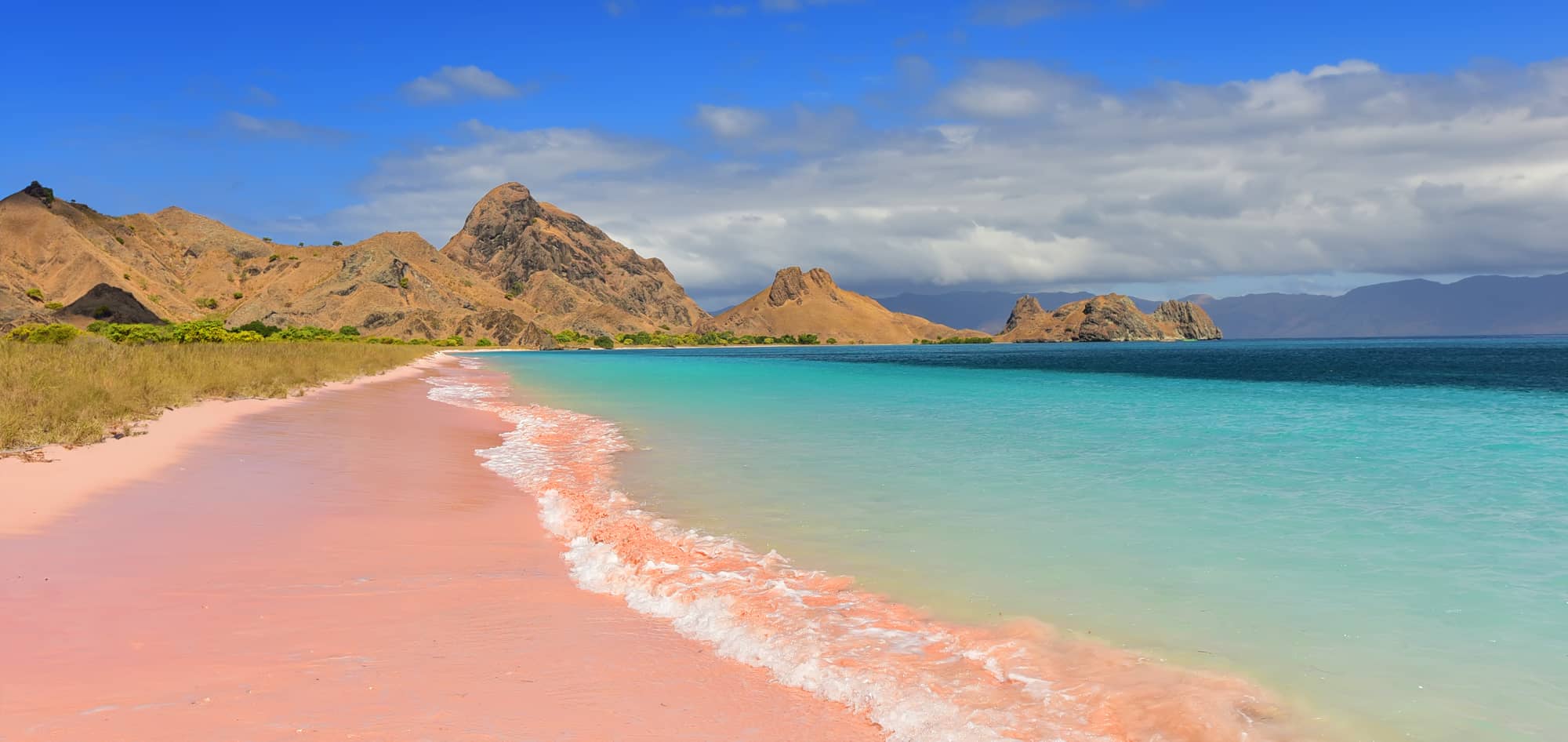 Photo: Made Adi Dharmawan
Pink Beach
Komodo Island, Indonesia
WHY WE LOVE PINK BEACH
One of the most photogenic beaches out there, with its pale pink sand and immaculate turquoise water, Pink Beach on Komodo Island is absolutely one of the most unique destinations in Indonesia, worth all the hype! Not only can you spend hours taking pictures of the sand, water, and majestic surrounding hills and mountains, but it also offers amazing diving and snorkeling with a reef teeming with tropical fish. Even a good hike is possible in the area. This beach has bucket list written all over it!
AVG. ANNUAL TEMP.
27.1° C
Photo: Asnidamarwani
WHEN TO SEE IT AT ITS BEST
April to June is the optimal time to visit Komodo Island as the weather is mild, and the chance of rain and storms is lower. July and August are also relatively dry, but the heat and the number of tourists increase during these months. During April to June, the island is covered in stunning greenery, and the temperatures are comfortable with calmer seas. A recommended activity is to visit Pink Sand Beach and Komodo Island on a boat tour lasting a couple of days to truly experience the area and perhaps even spot one of the 2000-25000 Komodo Dragons living on the island. December is the best time to spot the dragons, but it's also the beginning of the rainy season.
"Visiting Pink Beach is one of these pinch me moments! The contrast of the pink beach and the turqouise waters is simply unbelievable."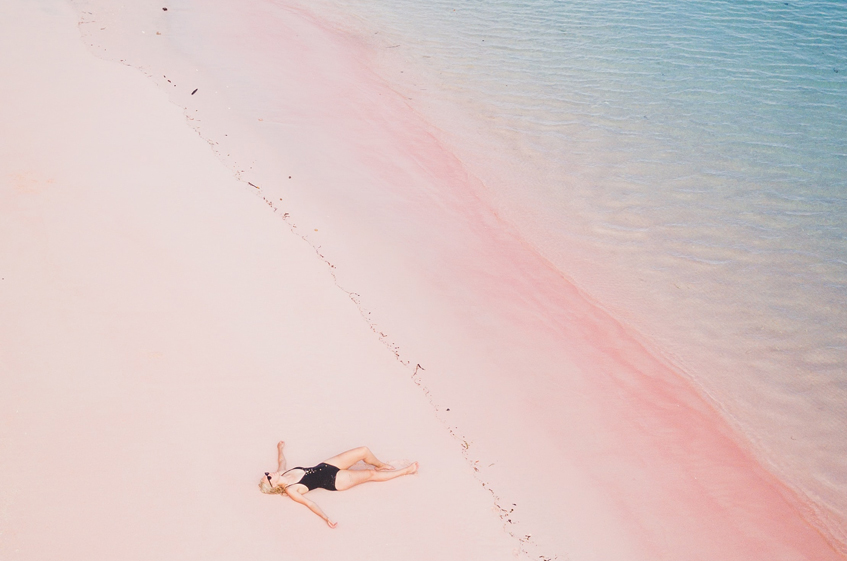 PINK BEACH YEARLY CLIMATE
| MONTH | AVG. HIGH | AVG. LOW | RAINY DAYS | AVERAGE WIND |
| --- | --- | --- | --- | --- |
| JANUARY | 29° C | 25° C | 15.6 | 15.6 km/h |
| FEBRUARY | 30° C | 26° C | 9.8 | 15.1 km/h |
| MARCH | 30° C | 25° C | 9.8 | 12.5 km/h |
| APRIL | 30° C | 26° C | 8.9 | 11.8 km/h |
| MAY | 30° C | 26° C | 8.5 | 18.1 km/h |
| JUNE | 28° C | 26° C | 6.2 | 24.6 km/h |
| JULY | 27° C | 25° C | 4.2 | 26 km/h |
| AUGUST | 27° C | 25° C | 6.3 | 26.8 km/h |
| SEPTEMBER | 28° C | 25° C | 8.1 | 24.3 km/h |
| OCTOBER | 29° C | 25° C | 9.2 | 17.4 km/h |
| NOVEMBER | 29° C | 25° C | 10.9 | 12.8 km/h |
| DECEMBER | 29° C | 25° C | 14.7 | 14.1 km/h |