One Foot Island
Aitutaki, Cook Islands
WHY WE LOVE ONE FOOT
If you can imagine all the postcards you have ever seen of the perfect tropical paradise, trust us, One Foot Island is precisely that! With its blindingly white sand, swaying palm trees, and inviting water, this location is breathtaking. The colors here are indescribable! Pure relaxation awaits you on this island, but there is also plenty to do, such as swimming and snorkeling alongside vibrant fish, and perhaps even encountering a turtle in the clearest turquoise water you have ever dreamt of. The island itself is a fantastic place to explore, but we are confident that once you see the beach, you'll never want to leave.
AVG. ANNUAL TEMP.
24.8° C
Photo: Paul Szigety
WHEN TO SEE IT AT ITS BEST
The Cook Islands do not experience many tropical storms or cyclones, but the South Pacific cyclone season begins in November and ends in late April each year. The driest months to go are from April to November, but honestly, the Cook Islands have excellent weather year-round, so there isn't a bad time to visit. We recommend visiting during April to June and September to December, which are the shoulder seasons (the time between peak season and offseason). During these times, you will have great weather, and you can avoid the crowds that typically peak in July to August.
"– uninhabited, powdery white sand, warm turquoise waters, gentle waves lapping the shore and swaying coconut trees. It is heaven on earth!"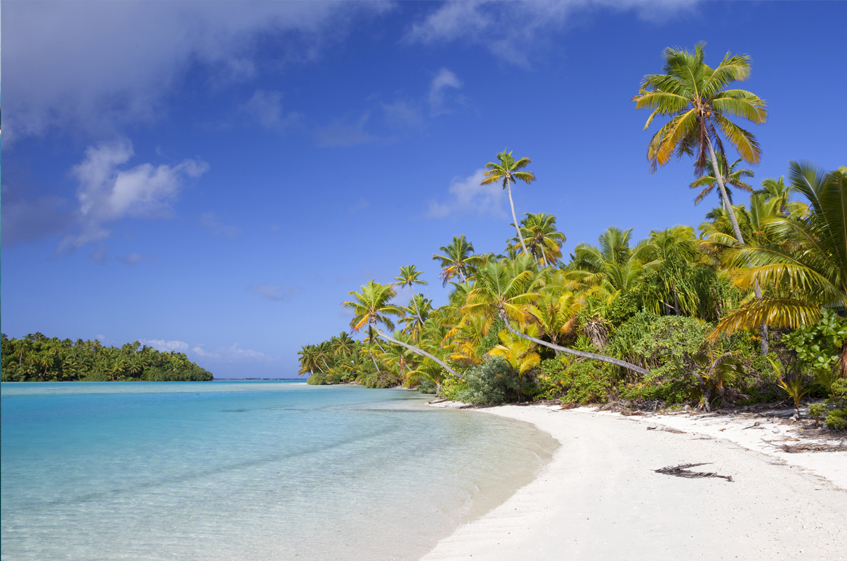 ONE FOOT YEARLY CLIMATE
| MONTH | AVG. HIGH | AVG. LOW | RAINY DAYS | AVERAGE WIND |
| --- | --- | --- | --- | --- |
| JANUARY | 29° C | 24° C | 13.3 | 21.3 km/h |
| FEBRUARY | 29° C | 25° C | 12.8 | 21.2 km/h |
| MARCH | 29° C | 25° C | 11.6 | 20.9 km/h |
| APRIL | 28° C | 24° C | 11.3 | 22.3 km/h |
| MAY | 27° C | 22° C | 10.2 | 22.2 km/h |
| JUNE | 26° C | 21° C | 5.7 | 22.3 km/h |
| JULY | 25° C | 21° C | 6.2 | 22.7 km/h |
| AUGUST | 25° C | 20° C | 6 | 22.6 km/h |
| SEPTEMBER | 25° C | 21° C | 6.7 | 22.9 km/h |
| OCTOBER | 26° C | 22° C | 8.1 | 22.4 km/h |
| NOVEMBER | 27° C | 23° C | 8.8 | 21.7 km/h |
| DECEMBER | 28° C | 24° C | 11 | 22.2 km/h |