WHY WE LOVE MAYA BAY
This world-renowned beach that became one of the most visited after the movie "The Beach" is finally open again after being closed for nearly 4 years. The heavy load of tourists following the movie did much damage to its natural beauty, but now it is more spectacular than ever! Soaring cliffs covered in lush jungle surround a calm cove where you feel like the rest of the world is a million miles away. This is unquestionably one of the most magical beaches on the planet. As the area is still under protection, there are restrictions on visiting time and swimming, but a true beach-lover absolutely has to visit here at least once in their life!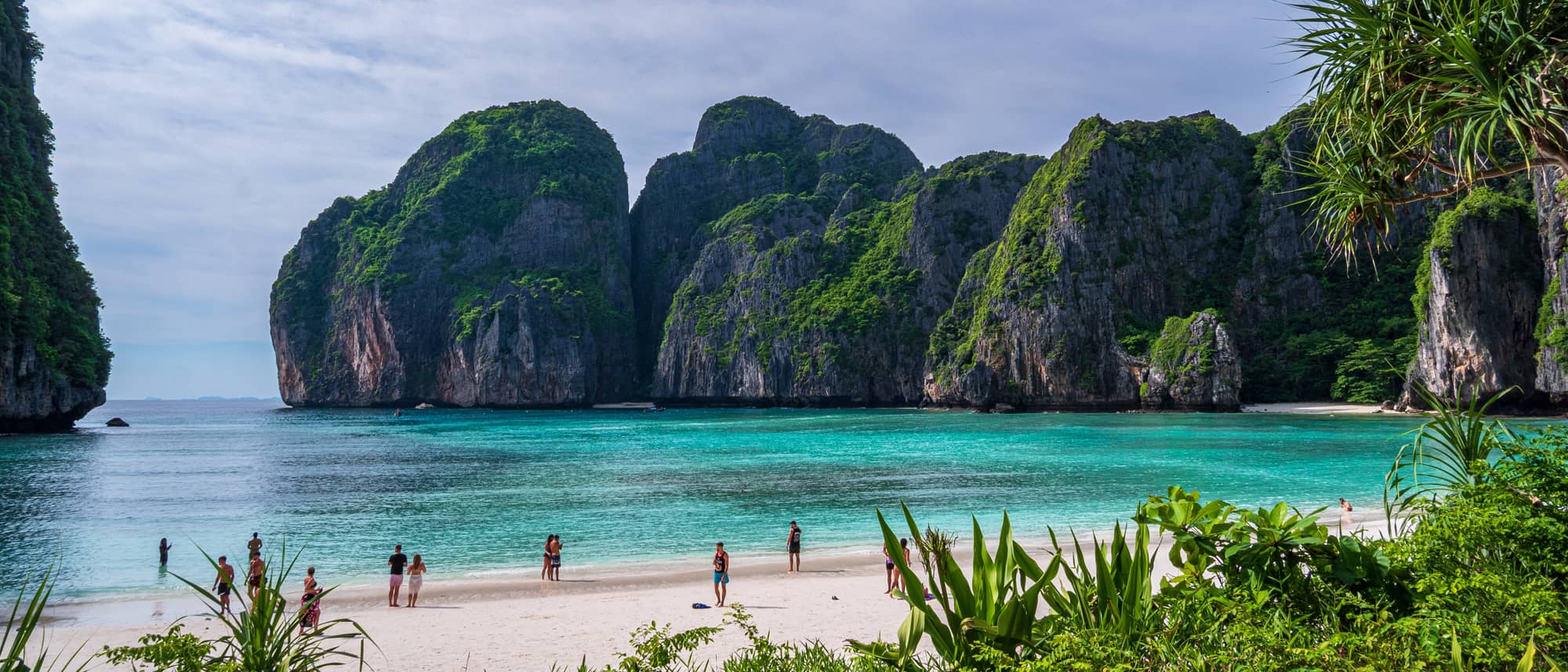 WHEN TO SEE IT AT ITS BEST
To fully enjoy the perfect ocean conditions, visit during late January to March when the ocean is calm, glassy, and crystal clear. Although November to March is peak tourist season, June to October is the rainy season. Maya Bay has just reopened to tourists, and you must now arrive by boat on the backside of the island. You have a short 5-minute flat walk through the jungle to get to the beach. As it is regulated, the number of people on the beach is about the same at all times, and you get to spend about an hour at the beach during a tour. For a more peaceful experience, head to the far end of the beach. However, swimming is not allowed, so you can only dip your feet.

""The Beach" - quite literally. Maya Bay is the famous beach featured in the famous film starring Leonardo DiCaprio. It has pristine blue water and the softest white sand.."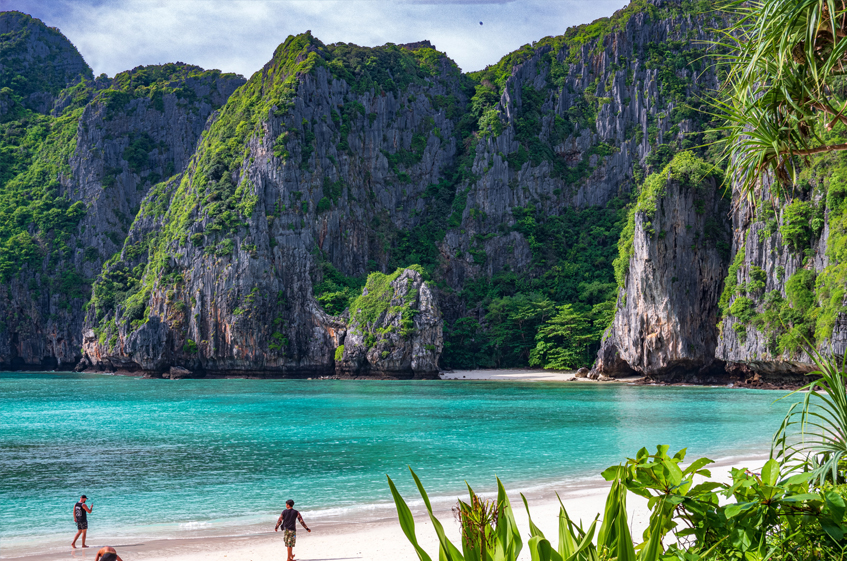 MAYA BAY YEARLY CLIMATE
| MONTH | AVG. HIGH | AVG. LOW | RAINY DAYS | AVERAGE WIND |
| --- | --- | --- | --- | --- |
| JANUARY | 31° C | 24° C | 3.6 | 11.1 km/h |
| FEBRUARY | 33° C | 24° C | 2.4 | 9.7 km/h |
| MARCH | 33° C | 24° C | 6.2 | 8.3 km/h |
| APRIL | 33° C | 25° C | 10.8 | 7.7 km/h |
| MAY | 32° C | 26° C | 16.2 | 9.2 km/h |
| JUNE | 31° C | 25° C | 14.3 | 11.1 km/h |
| JULY | 31° C | 25° C | 15 | 11.7 km/h |
| AUGUST | 31° C | 25° C | 16.2 | 12.2 km/h |
| SEPTEMBER | 30° C | 25° C | 18.8 | 11.3 km/h |
| OCTOBER | 30° C | 25° C | 20.3 | 9.4 km/h |
| NOVEMBER | 30° C | 24° C | 15.5 | 9.5 km/h |
| DECEMBER | 30° C | 24° C | 9.2 | 11.2 km/h |