Lucky Bay
Esperance, Western Australia
WHY WE LOVE LUCKY BAY
Here it is! Voted the best beach in the world by the most knowledgeable travel experts in the world! And come on, kangaroos on the beach, do we really need to say more about why this stunning, unique beach is on top of the list? Well, we will, because the friendly kangaroos are not the only thing making this the best in the world. Lucky Bay has some of the most pristine snow-white sand and incredible turquoise water you will ever see. Stretching over 5 km guarantees you'll find a spot less crowded to simply take in all the natural beauty. Whether you just visit to see the kangaroos, or come to chill, dive, canoe, kayak, walk the bushy trails and tracks, this beach is absolutely the best in the world!
AVG. ANNUAL TEMP.
17.5° C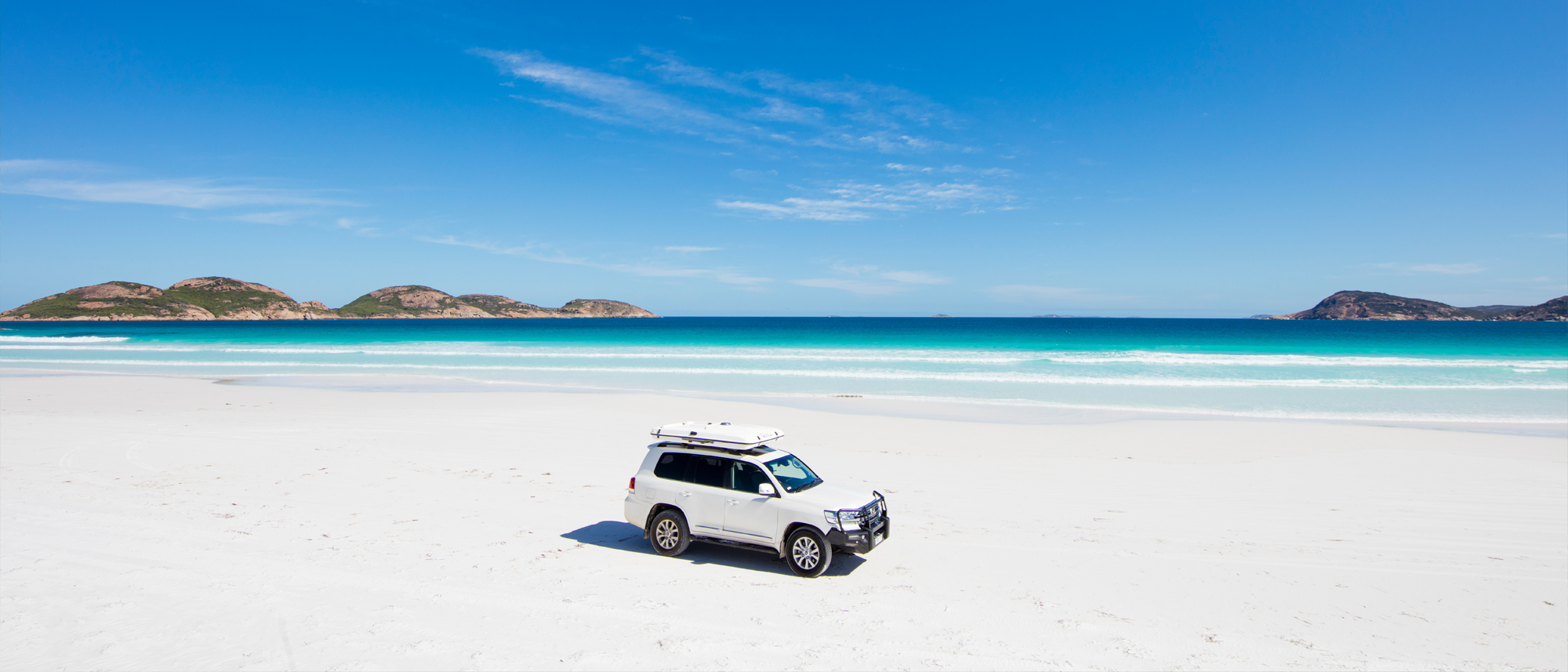 WHEN TO SEE IT AT ITS BEST
If you are looking to visit Australia for summer and warm weather activities, you should go anytime from mid-December to late March. The summers are warm and dry in Esperance, but in general, this area doesn't get a lot of rain even in winter. To make the most out of your visit to Lucky Bay, we suggest that you pack your camping gear and try to secure a beachfront spot in the area. This way, you can enjoy the glorious sun, meet the kangaroos early before it becomes crowded, and marvel at the most phenomenal star-gazing at night!

"Lucky bay is not only the most pristine beach you'll ever lay eyes on, it has resident friendly kangaroos that visit the beach daily. They are wild kangaroos though very tame and you'll easily be able to snap photos with them"
LUCKY BAY YEARLY CLIMATE
| MONTH | AVG. HIGH | AVG. LOW | RAINY DAYS | AVERAGE WIND |
| --- | --- | --- | --- | --- |
| JANUARY | 25° C | 17° C | 2.3 | 23 km/h |
| FEBRUARY | 25° C | 18° C | 2.2 | 22.6 km/h |
| MARCH | 24° C | 17° C | 3.5 | 21.4 km/h |
| APRIL | 22° C | 16° C | 3.8 | 19.9 km/h |
| MAY | 19° C | 14° C | 6.5 | 21 km/h |
| JUNE | 17° C | 12° C | 7.8 | 23.4 km/h |
| JULY | 16° C | 11° C | 9 | 23.7 km/h |
| AUGUST | 17° C | 11° C | 8.3 | 23.1 km/h |
| SEPTEMBER | 18° C | 12° C | 6.8 | 22.3 km/h |
| OCTOBER | 20° C | 13° C | 4.6 | 21.9 km/h |
| NOVEMBER | 22° C | 15° C | 3.8 | 22.5 km/h |
| DECEMBER | 23° C | 16° C | 2.7 | 22.5 km/h |