Honopu Beach
Kauai, Hawaii
WHY WE LOVE HONOPU
To experience the greatest wonders of this world, one must be willing to put in the effort. Honopu Beach, hidden away in the world-renowned Na Pali Coast, is a beach that only the bravest explorers get to witness up close. This Jurrasic-like wonderland is secluded, unspoiled, and the epitome of natural beauty. There are two small sandy coves nestled against 1,200-foot sea cliffs and separated by the striking Honopu arch landmark. The only way to access the beach is by swimming from a boat or a neighboring beach, neither of which is an easy task, and both require proper gear and a prior check of ocean conditions. However, whether you choose to see the coastline and beach from a boat or brave the swim there, we promise that it will be one of the most magnificent sights you will ever encounter.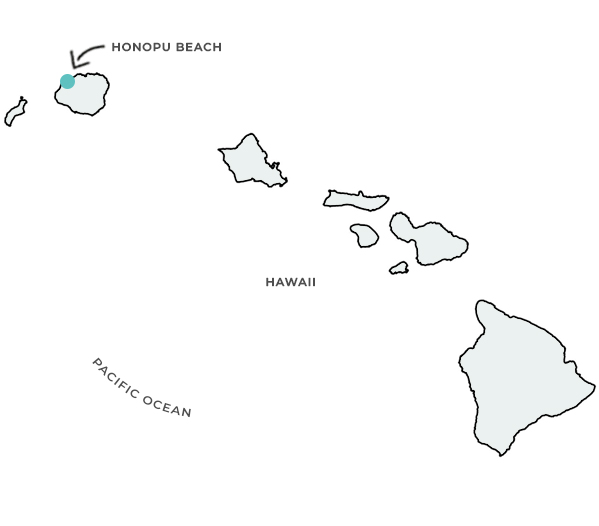 AVG. ANNUAL TEMP.
24.5° C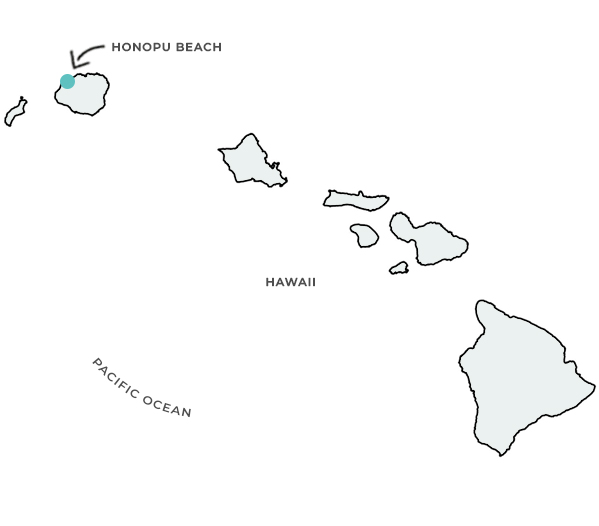 WHEN TO SEE IT AT ITS BEST
The breathtaking Na Pali Coast can be visited all year round, but we recommend going during the dry season which is from April to November. Rain may make it difficult to access certain areas along the coast and trails, and the ocean is calmer during the dry season. If you plan on swimming to Honopu beach from the neighboring beaches, it is only possible during the summer months, at low tide and before the winds pick up. Alternatively, you can swim from a cruise boat with the help and guidance of the captain, but you must be an experienced ocean swimmer.
"Strap on your snorkel and fins because the only way to reach this remote beach is to swim there. But have no doubt, the moment you touch the warm sands of this stunning tropical oasis, you'll know it was well worth the extra effort."
Photo: Hawaii Tourism Authority / Jakob Owens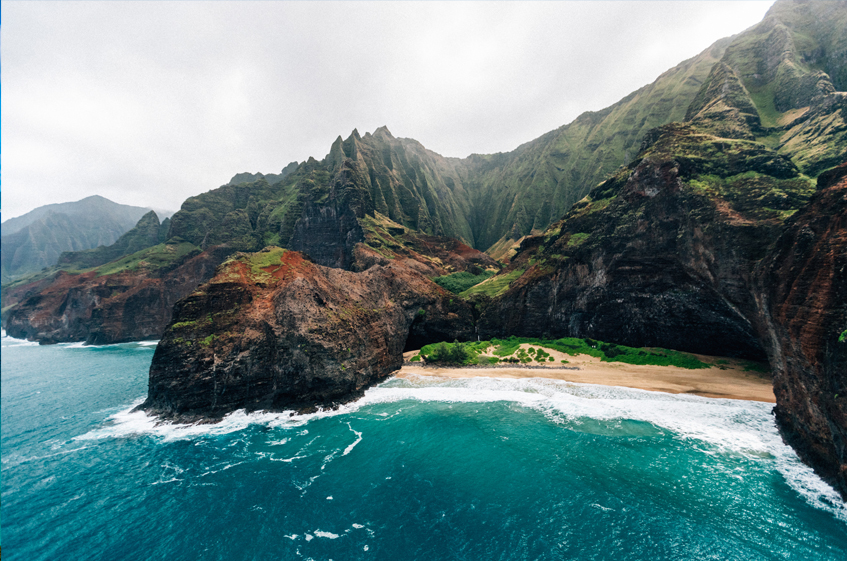 Photo: Hawaii Tourism Authority / Ben Ono
HONOPU YEARLY CLIMATE
| MONTH | AVG. HIGH | AVG. LOW | RAINY DAYS | AVERAGE WIND |
| --- | --- | --- | --- | --- |
| JANUARY | 26° C | 19° C | 8.2 | 20.8 km/h |
| FEBRUARY | 26° C | 19° C | 7.4 | 21.3 km/h |
| MARCH | 27° C | 19° C | 6.3 | 23.2 km/h |
| APRIL | 28° C | 20° C | 4.7 | 24.1 km/h |
| MAY | 28° C | 21° C | 3.9 | 22 km/h |
| JUNE | 29° C | 22° C | 2.7 | 24.3 km/h |
| JULY | 30° C | 23° C | 4 | 25.3 km/h |
| AUGUST | 30° C | 23° C | 4.1 | 23.7 km/h |
| SEPTEMBER | 30° C | 23° C | 4.5 | 21.5 km/h |
| OCTOBER | 29° C | 22° C | 6.5 | 21.4 km/h |
| NOVEMBER | 28° C | 21° C | 7.2 | 23.2 km/h |
| DECEMBER | 27° C | 19° C | 8 | 22.4 km/h |