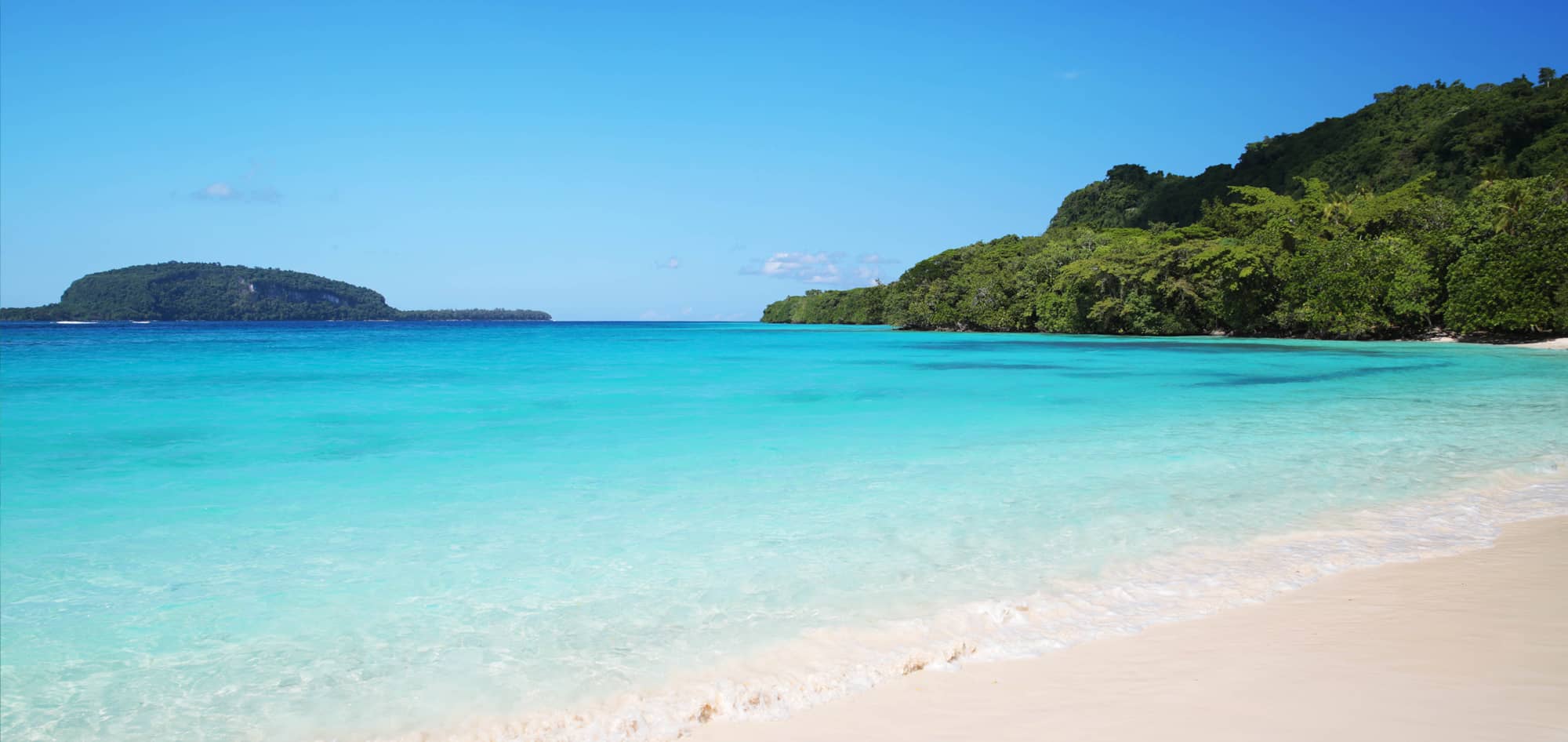 Photo: Vanuata Tourism Office
Champagne Beach
Espiritu Santo Island, Vanuatu
WHY WE LOVE CHAMPAGNE
You may think this beach gets its name for being the perfect, idyllic spot to share a bottle of champagne, but the name actually originates from volcanic activity below the water, which causes bubbles to surface through the sand at the shoreline. Besides this unique phenomenon, the beach is also famous for its stunning natural beauty with snowflake-white sand and electric-teal water. After visiting this beach, the bubbly beverage will no longer be your first thought when someone mentions "champagne."
AVG. ANNUAL TEMP.
26.1° C
Photo: Vanuata Tourism Office
WHEN TO SEE IT AT ITS BEST
Vanuatu is an amazing place to visit year-round with a tropical and equatorial climate, offering warm temperatures and sunny days all seasons. The most comfortable time in terms of not being too hot would be from April to October. The hot and wet season runs from November to April, but if you have rain, which is not a storm rolling in, it is normally followed by the sun shortly after. Champagne Beach doesn't experience a lot of strong winds or high waves, and the ocean temperature is always pleasant but refreshing. The beach is visited by many cruise ship passengers, and on those days, it can get packed. If you're not one of those passengers, we recommend avoiding those days for a more tranquil beach time.

"The name of the beach says enough, crystal clear water, white sandy beach, and a country that makes you feel at the end of the world."
Photo: Vanuata Tourism Office
Photo: Vanuata Tourism Office
CHAMPAGNE YEARLY CLIMATE
| MONTH | AVG. HIGH | AVG. LOW | RAINY DAYS | AVERAGE WIND |
| --- | --- | --- | --- | --- |
| JANUARY | 30° C | 24° C | 14.6 | 16.7 km/h |
| FEBRUARY | 30° C | 24° C | 14.1 | 17 km/h |
| MARCH | 30° C | 24° C | 15.6 | 17.1 km/h |
| APRIL | 29° C | 24° C | 14 | 18.1 km/h |
| MAY | 28° C | 24° C | 11.1 | 20.8 km/h |
| JUNE | 28° C | 23° C | 9.3 | 21.8 km/h |
| JULY | 27° C | 23° C | 7.4 | 23.1 km/h |
| AUGUST | 27° C | 23° C | 7.3 | 23.7 km/h |
| SEPTEMBER | 28° C | 23° C | 7.4 | 23 km/h |
| OCTOBER | 28° C | 23° C | 9 | 21.5 km/h |
| NOVEMBER | 29° C | 24° C | 10.8 | 19 km/h |
| DECEMBER | 30° C | 24° C | 12.8 | 17.2 km/h |