Capriccioli Beach
Sardinia, Italy
WHY WE LOVE CAPRICCIOLI
We're back in Sardinia, and it is no surprise as this place is bursting with the most fantastic beaches you have ever seen. Especially Capriccioli Beach, which some of our best judges vote as their most favorite beach on the planet. With white sand and calm Mediterranean vibes, once you finally dip into the crystal-clear turquoise waters surrounded by majestic rocky cliffs, you know that you've landed in a true paradise. When you sit here between granite rocks and a breathtaking view of the little islands of the Costa Smeralda, we guarantee that you will never want to leave.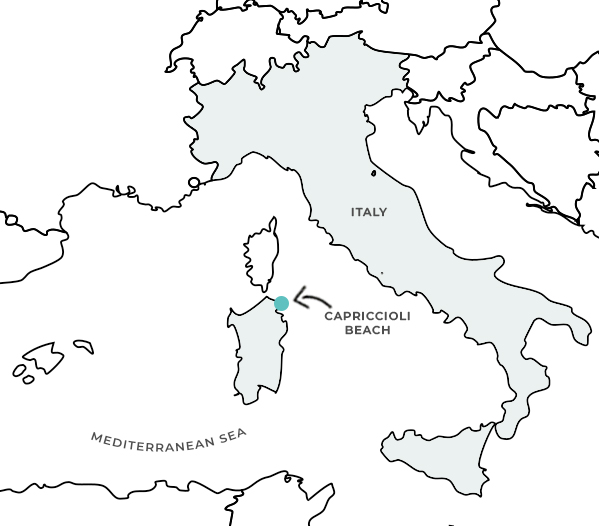 AVG. ANNUAL TEMP.
16.6° C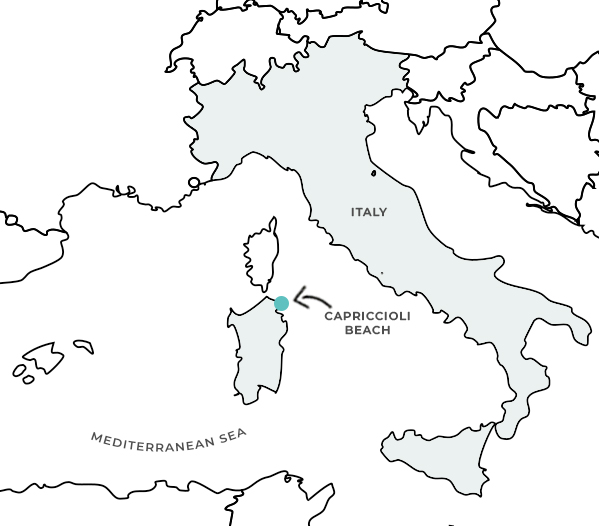 WHEN TO SEE IT AT ITS BEST
If you prefer quieter beaches, you should go to Capriccioli in May and October when the weather is pleasant, but the beaches are less crowded than during the peak season. However, if you're looking for warm ocean and epic beach days, you have to visit from June to August. Generally, it won't be too windy on the beach, with the surrounding vegetation offering protection from the wind, and the water is almost always calm. There are services in the area, but you can save money by bringing your own food, drinks, and umbrella. Summer days and especially weekends can get crowded, and it may be hard to rent umbrellas and loungers. So make sure to bring money for parking.

"It has a charming, picturesque cove with sandy shoreline, clear water and beautiful reddish granite rocks that protect the beach also from stronger waves."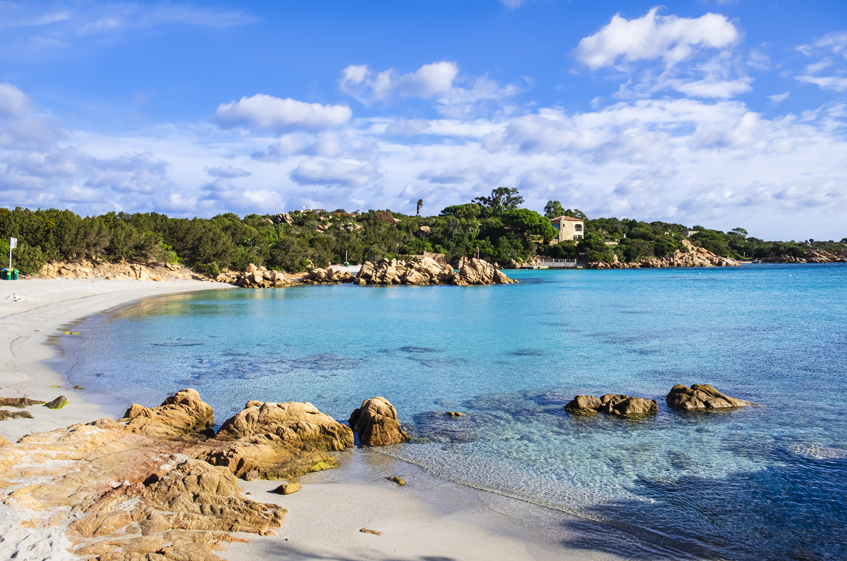 CAPRICCIOLI YEARLY CLIMATE
| MONTH | AVG. HIGH | AVG. LOW | RAINY DAYS | AVERAGE WIND |
| --- | --- | --- | --- | --- |
| JANUARY | 14° C | 6° C | 5.7 | 18.9 km/h |
| FEBRUARY | 14° C | 5° C | 5.5 | 19.2 km/h |
| MARCH | 16° C | 7° C | 5.3 | 18.6 km/h |
| APRIL | 19° C | 9° C | 5 | 17.8 km/h |
| MAY | 23° C | 12° C | 3.7 | 15.5 km/h |
| JUNE | 28° C | 16° C | 1.8 | 14.8 km/h |
| JULY | 31° C | 19° C | 0.7 | 14.3 km/h |
| AUGUST | 31° C | 19° C | 1.3 | 13.9 km/h |
| SEPTEMBER | 27° C | 17° C | 4.1 | 15.2 km/h |
| OCTOBER | 23° C | 13° C | 6.3 | 16.2 km/h |
| NOVEMBER | 18° C | 10° C | 7.9 | 18.1 km/h |
| DECEMBER | 15° C | 7° C | 6.6 | 19.3 km/h |