Anse Lazio
Praslin Island, Seychelles
WHY WE LOVE LAZIO
Whether you're interested in snorkeling, swimming, or just admiring one of the most immaculate beaches in the world, Anse Lazio in Prasline Island, Seychelles, will surely take your breath away. You will undoubtedly feel as if you just stepped into a postcard, as the healthy reefs and vivid coral gardens give divers access to a striking environment. If you're slipping on fins for the first time, there are sites for all levels. On land, lush coconut palms flanked by towering granite boulders offer a tropical oasis for travelers presenting the perfect opportunity for exploration and adventurous activities.
AVG. ANNUAL TEMP.
27.1° C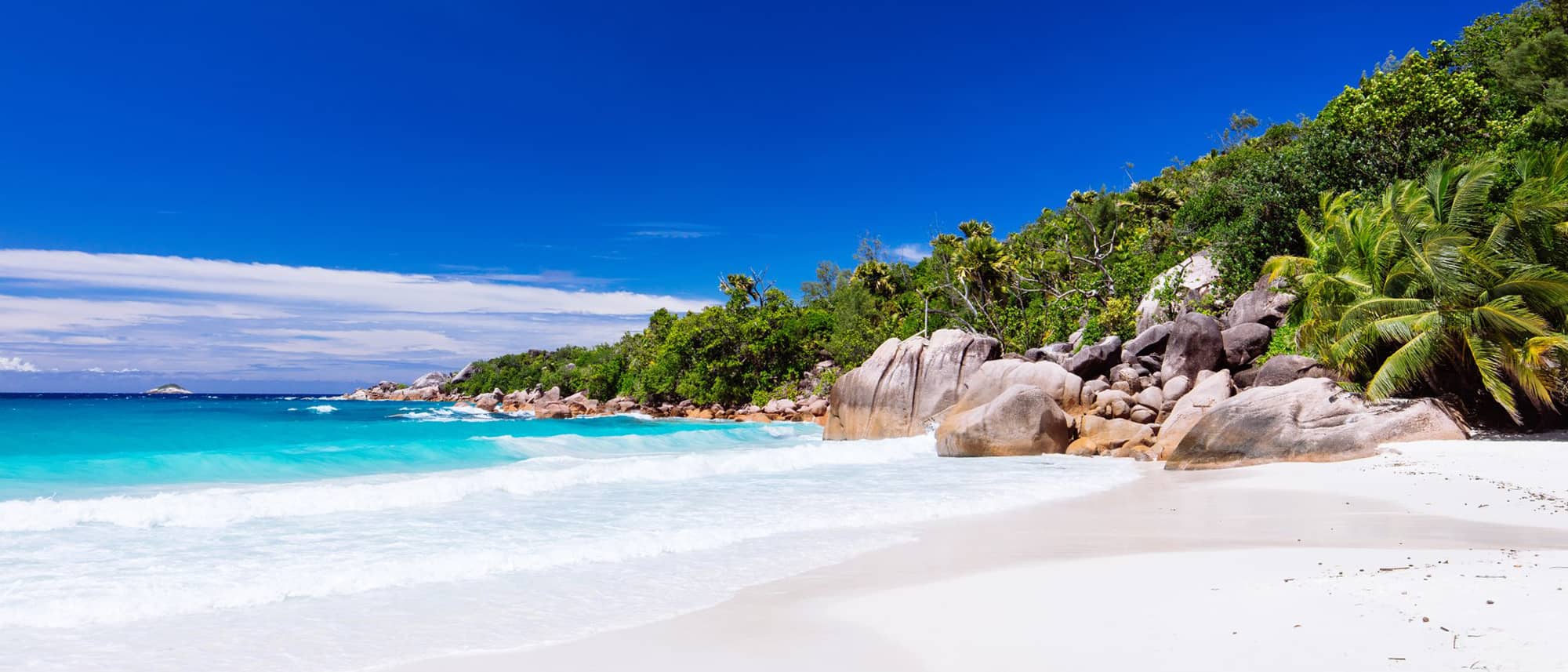 Photo: Torsten Dickmann
WHEN TO SEE IT AT ITS BEST
There isn't really a wrong time to visit Seychelles, but to avoid the most rain, it's best to skip December, January, and February. For the driest months, plan your visit for June, July, or August. The summer months are generally busier, so we suggest going in April or October for fewer tourists and great water conditions. April and October fall between two trade winds that hit the island every year, meaning the water conditions will be calmer with less chance of seaweed affecting the beach.

"Bring your flippers and snorkel gear, the bustling reef just off shore at Anse Lazio Beach will bring you up close and personal with hundreds of rainbow-colored fish."
Photo: Torsten Dickmann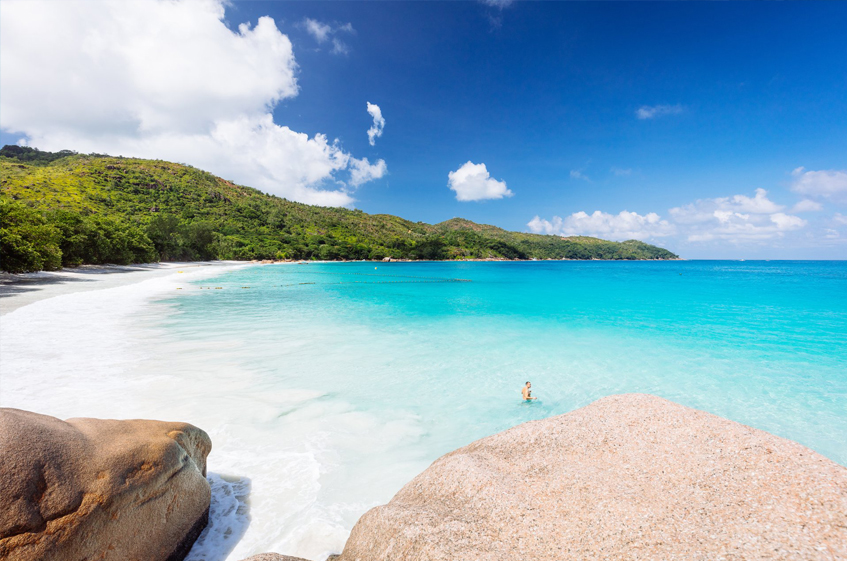 Photo: Torsten Dickmann
LAZIO YEARLY CLIMATE
| MONTH | AVG. HIGH | AVG. LOW | RAINY DAYS | AVERAGE WIND |
| --- | --- | --- | --- | --- |
| JANUARY | 29° C | 25° C | 15.4 | 15.6 km/h |
| FEBRUARY | 30° C | 26° C | 9.8 | 15.1 km/h |
| MARCH | 30° C | 25° C | 9.7 | 12.5 km/h |
| APRIL | 30° C | 26° C | 9 | 11.8 km/h |
| MAY | 30° C | 26° C | 8.6 | 18.2 km/h |
| JUNE | 28° C | 26° C | 6.3 | 24.6 km/h |
| JULY | 27° C | 25° C | 4.2 | 26 km/h |
| AUGUST | 28° C | 25° C | 6.3 | 26.8 km/h |
| SEPTEMBER | 28° C | 25° C | 8.1 | 24.3 km/h |
| OCTOBER | 29° C | 25° C | 9.2 | 17.4 km/h |
| NOVEMBER | 29° C | 25° C | 10.9 | 12.8 km/h |
| DECEMBER | 29° C | 25° C | 14.5 | 14.1 km/h |