Achmelvich Beach
Highlands Region, Scotland
WHY WE LOVE ACHMELVICH
Who knew Scotland had beaches resembling a tropical paradise with bright sand and water so clear and turquoise that you'll mistake it for the Caribbean? This is a popular spot for windsurfers, kayakers, and water skiers, but with a great campsite nearby, it is truly for everyone wanting to explore a nearly perfect beach in the Highlands of Scotland. Known for its natural beauty, great amenities, and excellent swimming, we highly recommend adding this stunning beach to your bucket list!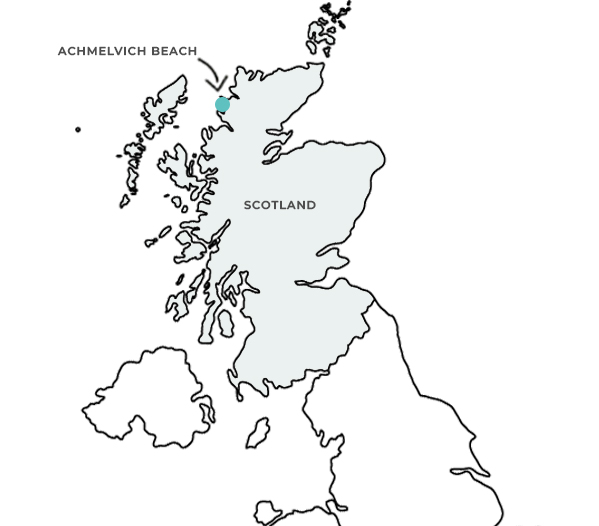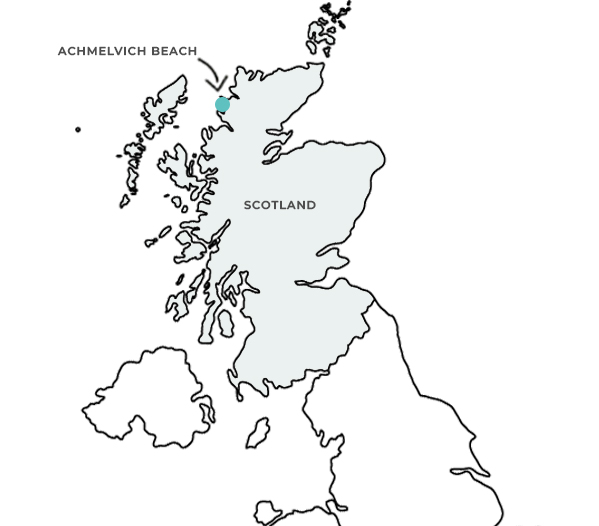 WHEN TO SEE IT AT ITS BEST
Scotland is a popular destination during the summer months of June to August, with better weather, longer days, and plenty of activities and festivals taking place. However, spring and fall are also great times to visit, particularly in the Scottish Highlands. Achmelvich Beach is stunning during the summer, but can get quite busy. If you want a more peaceful experience, consider visiting in the spring or fall. There are also beautiful walks in the surrounding area, which offer fantastic views of the beach. Be sure to arrive early if you visit in the summer, as parking can be limited on sunny days.

"Achmelvich Bay is a great place to watch the sunset from the beach over the sea. A truly hidden gem in one of the most beautiful places on earth."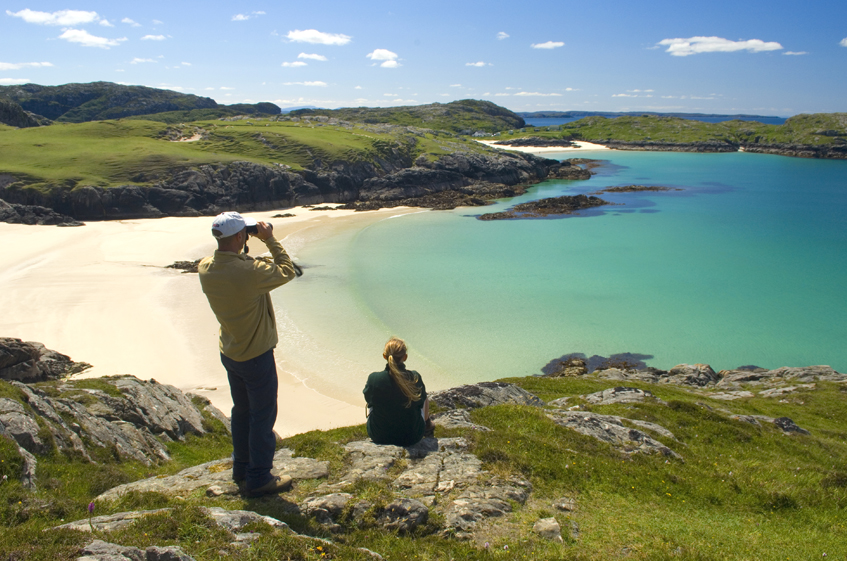 Photo: NWH Geopark
ACHMELVICH YEARLY CLIMATE
| MONTH | AVG. HIGH | AVG. LOW | RAINY DAYS | AVERAGE WIND |
| --- | --- | --- | --- | --- |
| JANUARY | 6° C | 2° C | 13.9 | 32.5 km/h |
| FEBRUARY | 6° C | 2° C | 11.4 | 31 km/h |
| MARCH | 7° C | 3° C | 11.2 | 29.6 km/h |
| APRIL | 9° C | 4° C | 8.4 | 25.1 km/h |
| MAY | 11° C | 6° C | 7.9 | 22.1 km/h |
| JUNE | 14° C | 8° C | 8.3 | 20.9 km/h |
| JULY | 15° C | 10° C | 9.2 | 20.2 km/h |
| AUGUST | 15° C | 10° C | 9.9 | 21.4 km/h |
| SEPTEMBER | 14° C | 9° C | 11.3 | 25.5 km/h |
| OCTOBER | 11° C | 6° C | 13.1 | 28.6 km/h |
| NOVEMBER | 8° C | 4° C | 13.4 | 30.1 km/h |
| DECEMBER | 6° C | 2° C | 13.7 | 30.9 km/h |